Follow my journey through the Tatting Proficiency Program administered by the International Old Lacers, Inc. (IOLI).
February 1, 2012
There are a number of ways to finish your tatting. You don't have to use only starch. Here are some alternatives (which include a homemade recipe for starch).
No Starch, just sew method:
If you are sewing your tatted piece onto a quilt, then you do not need to starch it, especially if you use high quality thread which holds a picot's shape. However, use starch when picots are slightly twisted, picots are closed, or your motif doesn't lay flat. (Remember to spray starch in a ventilated area and do not spray into the wind.)
If you want your picots to be rounded, then you push your T–pin through the picot loop at about a 10° angle. (Or as flat as you can get the pin to lay against the pinning board.)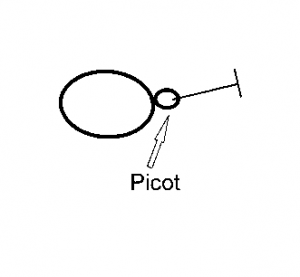 If you want your picots to be pointed, then place your pin at a 90° vertical angle inside the picot loop and pull in a horizontal motion. Then insert the pin into the pinning board. You might want to use the thinner sewing pins as these will produce a sharper point.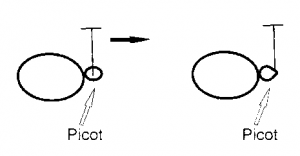 Elmer's Glue:
Dilute the glue with enough water to produce a runny consistency like milk. It should flow easily over the tatted article. I use distilled water. Approximate measurements are 1 tablespoon Elmer's Glue with 2 tablespoons of distilled water. Submerge your tatting in the glue. Pull out and dab off excess glue mixture with a tissue.
Pin your tatted article to waxed paper. (See Tips Section of this Newsletter.) Use tissue to soak up extra glue mixture. Waxed paper prevents your tatting from sticking to the surface as it drys.
Sugar and Water:
Use a one to one ratio of sugar and water. On the stove, melt the sugar and water mixture in a pan. Continue stirring until the mixture is clear. (Sugar will invert.) Let mixture cool until it is warm. Submerge your tatting in mixture. Be sure to use the mixture while it is warm. Otherwise, your thread tends to unevenly soak up the mixture which will result in an uneven color.
Acrylic Spray:
A can of acrylic spray is found in most craft stores. This is used for tatted jewelry because it really hardens the thread. Spray tatted article in a well ventilated area. Spray both sides of jewelry. Wipe off excess spray on the beads so it doesn't diminish the colors. Pin out on waxed paper. Or if it is a novelty item, place it on the appropriate form like a key ring or brooch. Let dry.
Store bought Spray Starch:
Use heavy spray starch for articles that need to be very stiff. Use light spray starch for tatting that needs to bend a little for drape like curtains. Light starch adds a little body to the tatting.
Homemade Starch:
Stir ¼ cup cornstarch in to one cup of tepid water until it is dissolved.
Add this mixture to a quart of water in a pan.
Place pan on burner. Stir this mixture until it comes to boil.
Heavy Starch: Use above recipe. Make sure it has cooled down to a warm temperature.
Medium Starch: Add 1 quart of cold water and stir.
Light Starch: Add 2 quarts of cold water and stir.
Note: Avoid using starch on items which are meant to be handed down generation to generation, i.e. a tablecloth. Eventually, starch will deteriorate the thread.
October 3, 2011
Last month I taught my first tatting classes. Sixteen wonderful women attended. I want to publicly thank them for taking a Beginning Tatting class.
I spent several months writing my lesson plans and preparing my samples.  I was so pleased (if not somewhat surprised) when the plans actually worked! The women were amazing in how quickly they learned to make the double stitch.
The other thing I learned is how much I enjoyed teaching women. (I have taught children for about 24+ years.)  One woman, without any knowledge of tatting, joined the class only because a friend brought her along. By the end of class, she had adopted tatting as her new passion.
Tatting is the only needle art I was unable to learn by reading a book. (I learned knitting, crochet, hardanger, cross stitch, and Mountmellick embroidery by reading various books.) When I began tatting, I was unaware of any tatting videos on the Internet. Instead, I read several tatting books. In these books, the double stitch "flip" was often indicated by an arrow. I did not understand what the arrow meant. I thought "reverse work" meant: turn to its opposite side.
Then I saw a live tatting demonstration. Finally, I understood how to make the "flip." This motion looked like a tiny jump rope–swung up your backside and halted above the head. Or, in tatting terms, to make the flip the shuttle thread is transferred from below the left hand thread to above the left hand thread.
Anyway, I want to thank you again, ladies, for taking my classes. I hope to meet you again in future classes.
April 9, 2011
For the tatting proficiency pin, it is required that I come up with a glossary. The posted terms are not in any way endorsed by the IOLI, nor is it a complete list of terms used in the tatting world. This is merely my current understanding (which is subject to change), of common terms. (More will be added later.) And these terms will appear in ABC Tatting Patterns. Please note some are listed as common terms only, not with particular abbreviations.
My goal is to make my abbreviations and tatting vernacular as accessible as possible to beginning tatters. At the same time, I would like my patterns to be compatible with other patterns. Therefore, I'm opening this dialogue in hopes of finding a common tatting vernacular.
I invite other tatters to express their own opinions. Please leave a comment or contact me through e-mail by clicking on "Contact Laura" on the sidebar. Thanks! I will get back to you as soon as possible.
May you be blest; and tat through the rest.
Laura
March 1, 2011
Just wrote my entry for the History column. I learned quite a bit about this, but found many more resources to read than what I got done. (I had about 10 references.) I will update it as I go along. For now, enjoy a pleasant read by going to my History page.
February 1, 2011
I'm reading Tatting: Technique & History by Elgiva Nicholls. This is a fascinating history of tatting. It was published in 1962 and some of social mores of the 1950s and 60s no longer apply. Today, June Cleaver would never be nominated for a role model–vacuuming her house in heels and a pearl necklace. Our enthusiasm for doilies may be waning and we don't tat antimacassars anymore, but we still love to ornament our Christmas tree with tatting or send a card with tatting to a friend.
But I digress. Nicholls' book has loads of information about the history of tatting. What surprised me about this book is it also contains many suggestions about designing tatting patterns. For example, the chain, by nature, is a curved element adding a graceful rhythm to a design.
Through the IOLI Library Loan program, I have ordered the following books:
The Dictionary of Needlework by S.F.A. Caulfeild & Saward,
A History of Lace by Santina M. Levey
The Identification of Lace by Earnshaw
I can't wait for them to arrive. Can you guess my first assignment? I need to write a short history of lace. Stay tuned.
© 2011 Laura Evans   All Rights Reserved.